Add products by adding codes
Enter the product codes that you want to add to the basket in bulk (after a comma, with a space or from a new line). Repeating the code many times will add this item as many times as it appears.
Unveiling the world of IPA and its diverse varieties
2023-08-03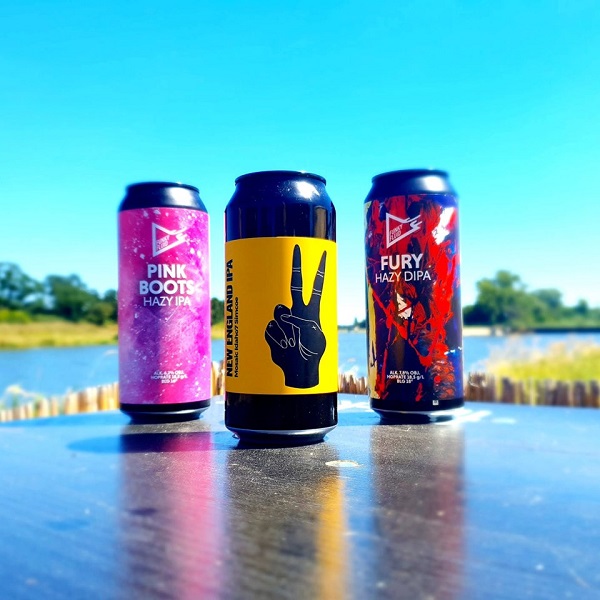 In the realm of craft beer, is there a more iconic acronym than "IPA"? It's doubtful. But if you're just embarking on this delightful journey through a world of bitterness and citrusy aromas, and you're eager to learn more about IPAs, we invite you to delve into the following article and consider acquiring a tasting kit to truly absorb this informative knowledge.
Are you ready? Let's begin!
IPA, or India Pale Ale, is an abbreviation that needs no introduction. This style made its way from the United States a few years ago and instantly conquered the market and the palates of craft beer enthusiasts. Over the years, it has evolved, giving rise to numerous variations, but they all share one essential characteristic.
Hops.
A lot of hops.
But where did IPA originate?
Let's dissect the name of the style once again. Let's start with the most intriguing part - "India." This prefix traces its roots back to colonial times when India was under British rule. "Pale" refers to the beer's colour, signifying its pale or light hue. However, it also indicates that it's a top-fermented beer. In those days, India Pale Ale denoted a beer intensely hopped, thus better preserved for extended journeys, destined for the Indian market.
In contemporary times, the name IPA is often augmented with the letter "A," resulting in AIPA, highlighting the use of American hops in the brewing process (American India Pale Ale).
Now, let's explore the various types of IPAs. There are many, and among the most prominent ones are:
1. Belgian IPA – a fusion of IPA and light Belgian beer, enhancing the IPA profile with fruity and spicy notes from Belgian yeast.
2. Black IPA – formerly known as Cascadian Dark Ale. As the name implies, it's an IPA with a dark, almost black hue, derived from equally dark malts.
3. Brett IPA / Wild IPA – IPA fermented with wild Brettanomyces yeast, introducing "funky" notes such as phenols, horse blanket, leather, and various other aromatic nuances.
4. Brut IPA – a bone-dry IPA where the absence of malt sweetness allows even the slightest bitterness to take center stage. This dryness is achieved by adding an enzyme called amyloglucosidase, breaking down unfermentable sugars.
5. DDH IPA – Double Dry-Hopped IPA, indicating that it's doubly cold-hopped, resulting in doubled hop-derived aromas without added bitterness.
6. Double / Triple IPA – these are IPAs with an increased malt bill and a higher hop content, yielding a beer with elevated alcohol levels and a more intense flavor and aroma. Simply put, everything is amped up here.
7. East Coast IPA – a beer of American origin and a close relative of the West Coast IPA from the opposite coast of the USA. It boasts moderate bitterness but significant malt accents.
8. Fruit IPA – IPAs with added fruits or, in the case of Milkshake versions, both fruits and lactose.
9. Hazy IPA – a heavily hazy, refreshing, and juicy IPA that has taken the market by storm with its drinkability. It's the quintessence of summer flavor and refreshment in beer form!
10. Imperial IPA – much like Double / Triple IPA, it's a beer with a stronger flavor, aroma, and higher alcohol content compared to the standard version.
11. Milkshake IPA – a beer attempting to mimic fruity milkshakes. This effect is achieved by adding lactose, fruit, and other additives like vanilla. A Milkshake IPA should be full-bodied, velvety smooth, hazy, and, of course, fruity. #NoMilkAdded
12. New England IPA / Vermont IPA – smooth, hazy, with a creamy texture and an incredibly intense hoppy aroma and fruity juiciness. Bitterness is present but shouldn't overpower. Together with Hazy IPA, they form a true beer #DreamTeam for summer.
13. Session IPA – Session IPA boasts lower alcohol and bitterness content, designed to be highly drinkable. Think of it as light, easy, and enjoyable.
14. Sour IPA / Tart IPA – IPAs with sour notes, either from the addition of fruits or Lactobacillus lactic acid bacteria.
15. West Coast IPA – the West Coast counterpart to the previously mentioned East Coast IPA. The West Coast version is highly bitter and dry, with minimal malt characteristics.
16. White IPA – A fusion of IPA and witbier, a slightly tangy Belgian wheat beer brewed with citrus peels and coriander in the production process.
Congratulations if you've made it to the end and have become masters of the IPA style – you've earned a beer or even two, maybe three. You can restock your supplies in our online store.
Happy shopping, and may the power of IPA be with you!